Calligraphy is not dead, in fact, it is making a come back. There is nothing more magical than creating whimsical letters that float across a page to display a beautiful wall quote, name tag, or poem. Whatever it is that you like to collect or create, calligraphy can bring beauty to your project and a touch of style to your life.  It is said to be "the art of giving form to signs in an expressive, harmonious, and skillful manner."- Claude Mediaville" It becomes even more artsy when it is paired with a glass of wine, some finger food and a bunch of creative women.
I discovered this during a recent experience at an Ink & Root workshop. Denver has been buzzing with transplants waiting to explore, and what better way to see the city and meet new friends than taking a fun class. This is just what drew Hannah into forming her passion into an educational and social soiree.  Her southern charm and lyrical instruction makes it a warm and inviting space where you can feel okay with chicken-scratch for writing, but still learn a thing or two. It was true comradery to laugh at yourself with new friends, but slowly see a skill forming through the twist of your wrist.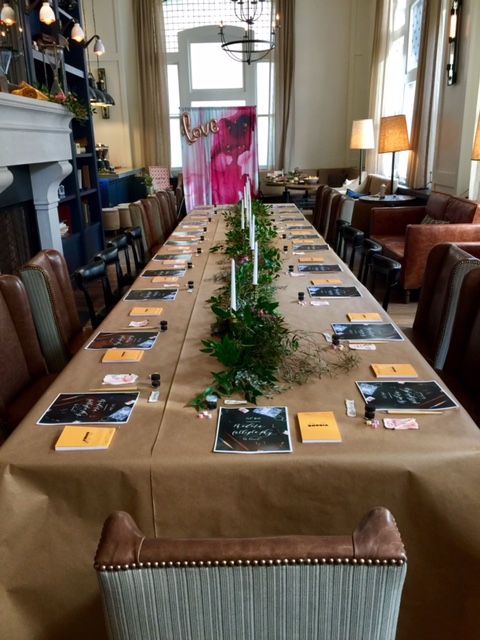 The Ink & Root workshop was held at Hotel Teatro. The front room facing the street was converted into a magnificent gathering place, complete with small bites and cocktails provided by The Nickel. Tangerine Room Events created a lovely photo-booth for everyone to record their memories in the making.  Fluorescence Flowers was there with a beautiful array of stems making floral decor as well as flower crowns for any guests who requested them. Every lady felt extra beautiful as she took her seat at the ornately decorated table.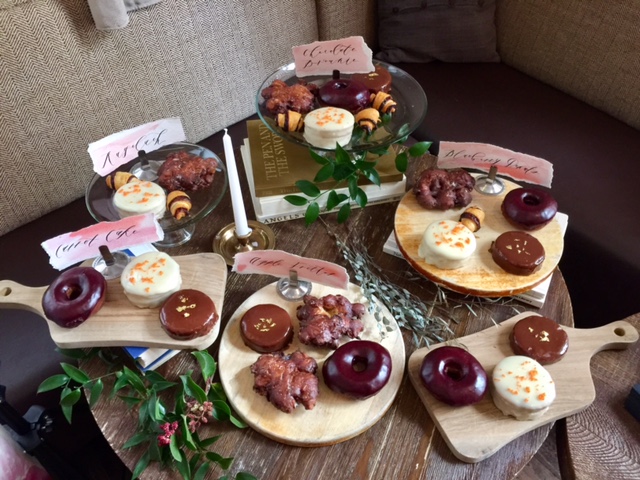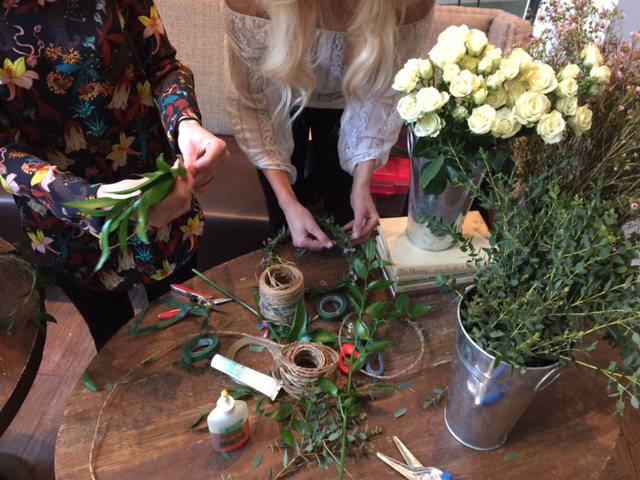 Hannah started the workshop by giving a lovely welcome. She shared a little about herself and her background and then walked everyone through the supplies that were provided. Each individual received a straight pen and a nib, accompanied by a practice packet that contained information AND Hannah's very own alphabet. Also included was a tiny calligraphy notebook, for future practice, and of course… ink!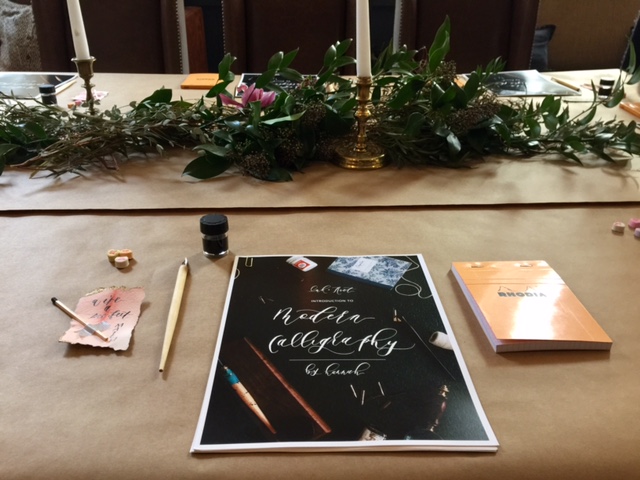 We learned how to dip, dab and put pressure on the pen. We practiced upstrokes and downstrokes and all did our best to create alphabet letters that replicated those in our packets. Hannah worked her way around the table, spreading cheer and working with people individually. She took time with each person to show them different letters or phrases and give them tips on their own style.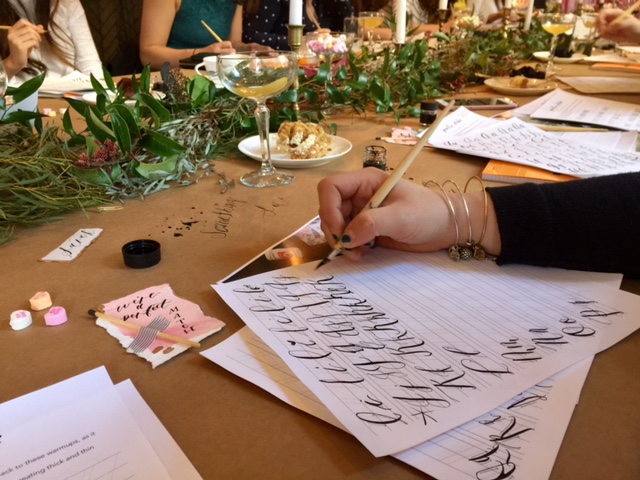 After a couple hours that went by like minutes, each guest walked away with a new set of friends and a comfortable foundation to continue with this lovely hobby. Ink & Root made the experience a impeccable one. It was great to network with style lovers, bloggers and event planners. If you are interested in making calligraphy a hobby of your own, Ink & Root will give you an experience to remember. If you find these workshops are sold out (because they do go quickly) there are plenty of calligraphy or hand lettering classes on dabble.com as well. Regardless of where you go to sign up, "brushing"up on your calligraphy is definitely hot right now.