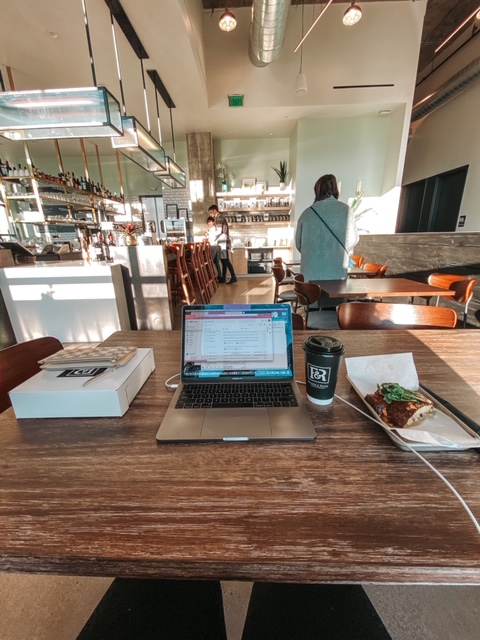 With the Coronvirus making daily changes to our lives, every bit of comfort seems to be going right out the window. This is especially true if you were one of many people who lost their job in the last couple of weeks.
Though I definitely don't know fully how it feels to have that uncertainty during this time, I do know what it is like to be laid off. Twice in the last five years, I have been without a job for at least three months. I went through all the emotions of not feeling secure, not feeling good about myself and all that comes with it. Through that time there were a few things I learned.
I learned to give myself time to feel sad and grieve. Don't spend too much time in this place because you can slip into depression and a downward spiral. Give yourself grace and take a QUICK break and then pick yourself back up and start being positive. Start thinking about self-improvement, think creatively and be proactive. Write out a to-do list, set goals and make a schedule for each day.
I realize it can feel pretty hopeless during this time with people not knowing where the economy will go and what will stay open. However, there is a lot that can be done when you have an extra 40 hours a week to improve.
Use your community resources. There are places that assist you in resume building, career coaching and even certifications. In Colorado, you can find a Workforce Center near you. Everything they offer is either free or a very small fee. It is the best resource and not everyone knows about it! You can print your resume there for free! The people who work there are so nice and helpful. It is literally their job to assist you in your job search.
Network. Find groups online (Facebook & LinkedIn are great places to start) that speak to your career path or interests. There are networking groups for just about everything. I am in a bunch of marketing groups specific to my area. There you will find job postings, career advice, and comradery! Talking to others that have applied for similar jobs can be beneficial. They can make recommendations on what has helped them or what their company looks for in new candidates. This has been extremely beneficial to me.
Read uplifting materials. I find it incredibly helpful to boost my confidence by reading a chapter from a self-help book each day. You are a Bad Ass is my favorite. This gives me a morning pep talk and has me in a positive mindset before I begin my day. Not into it? That's ok. Just don't surround yourself with negativity or negative talk. Maybe distract yourself with something else every morning, like a good song that pumps you up, a great workout at the gym or if you are a nerd, a good article from Scientific America about advancements in research? ( I know people who get excited over this stuff).
Perfect your resume. Find different resume templates that might speak to who you are and give your job experience a little more flare. Hire a professional resume writer or get feedback from others in the industry. If you have a mentor, have them give their honest advice. Take this constructive criticism and do something with it. At the end of an interview, ask a question about what stood out on your resume. Keep a log of all feedback so you can tailor it. Make sure you write your cover letter for each job you are applying for. Customize each resume based on the job description. Highlight the experience you have to match what they are looking for as stated in the job description. Keep it short and sweet. Give them just enough info to be intrigued, but little enough that they will need to ask you questions.
Keep learning and growing. This is my favorite and one of the most important things. The internet is full of online courses, certifications, etc. So many of which are free! Take one class each day or dedicate time to learn something new. Use the LinkedIn learning center, Facebook certifications, Hubspot, etc. This helps to build your resume while you are out of work and keeps you in the know. Is nothing online? Shadow someone in your job field. See if there are any part-time internships. This is also something that is good to do while you have a job, but we seem so strapped for time while working we never get to these things. Now is your chance!
Volunteer. During this COVID19 crisis, there are a lot of opportunities to help your community. This could mean volunteer for an organization, but you can take this into your own hands as well. Volunteer to get groceries for an elderly neighbor, volunteer to help transport people with disabilities to and from healthcare appointments, shovel your neighbor's driveway, walk a friend's dog. If you are in the restaurant industry and are out of a job, keep a good relationship with that community. Volunteer to clean or run their social media until things are back to normal. Maybe you dabble in graphic design, offer to create some designs for flyers for a to-go menu. There are countless ways you can lend your time. And what goes around comes around. You will feel good for doing this and you will be helping people out.
I realize you may come to the end of this blog and still feel completely overwhelmed, sad, and defeated. There are some things that I cannot take away with my encouraging words. There are a lot of emotions you will have to go through… but that is the thing… you will go THROUGH this and will come out on the other side. There will be an end to this hopeless feeling, so don't give up. Hang in there. These 6 things should certainly help you and at LEAST distract you while you are unemployed. Motivate yourself and stay positive and driven. You will be employed and empowered by the end of this season of life.