As the city of Denver begins to expand, so do the options for hotel stays. For an upcoming girls weekend, the decision was easy. The Art Hotel is perfect for all size groups, from couples to families. It is a place made to inspire creativity and provide entertainment along every wall. For those looking for a trendy and intriguing stay, The Art Hotel will have what you need. Located at the beginning of South Broadway, it has great walkability and great views. It is easy to hop in the hotel car service and go anywhere in downtown Denver.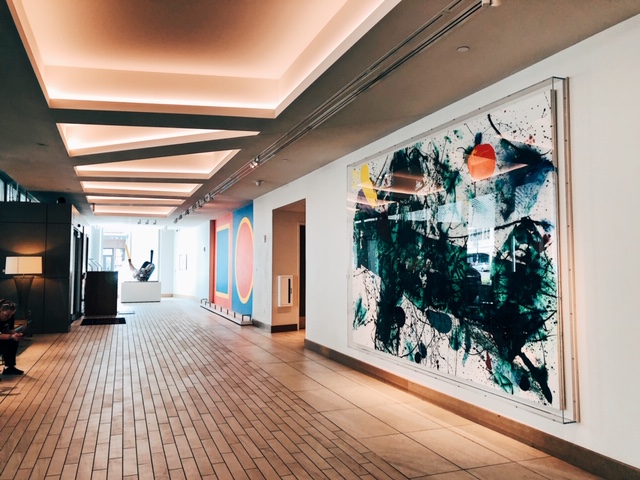 When you arrive at valet, a bellman will gladly park your car inside the hotel garage. (There is no lot for regular parking). You will enter, what feels like an art gallery, and make your way to a beautiful lobby with seating next to a set of elevators. The elevators will take you to the 4th floor where you will be able to check in. Along the way, you will see artistic videos inside the elevator and pass beautiful sculptures.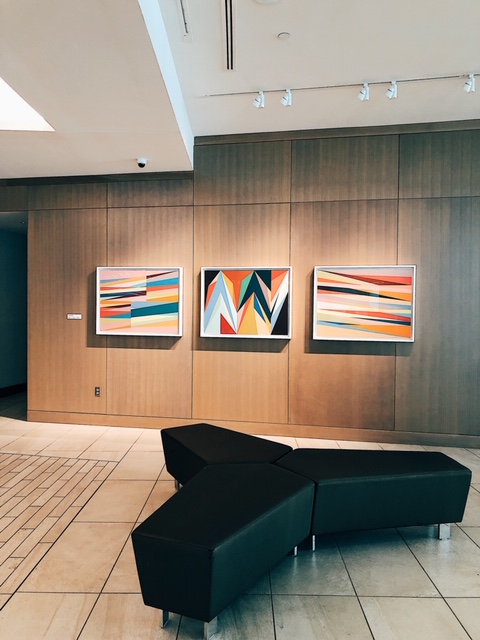 Also located on the 4th floor is the rooftop patio that spans around the entire restaurant FIRE. Here you can grab brunch, lunch. dinner or drinks. There are several seating options. You can sit at the long and beautiful bar, centrally placed bar tops, or in a more private lounge space next to a fire. The restaurant overlooks South Broadway and is the perfect place to spend a summer evening. The lighting is kept low and the fire pits that line the patio make it a cozy and inviting atmosphere. We enjoyed cocktails by the fire after dusk. It was such a soothing atmosphere and a great start to our night. We also ordered coffees in the morning. They sure make an excellent latte!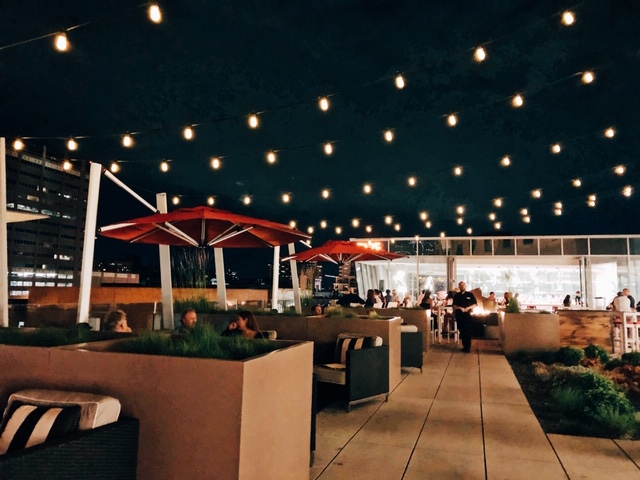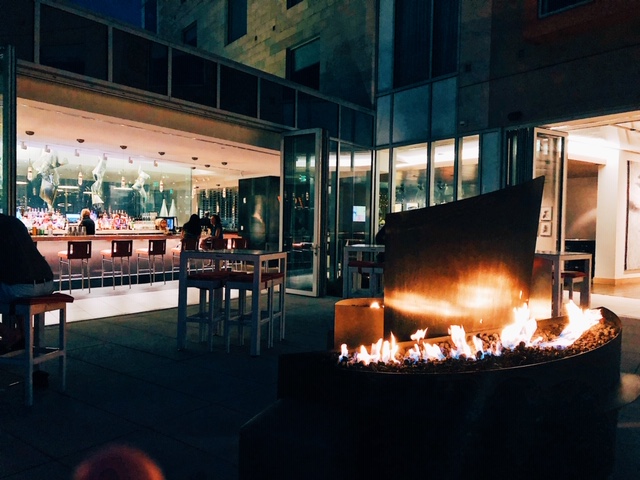 Once you move up to your room, you will be pleasantly surprised at what stands out. It is the little things! Each room has a lovely coffee machine, complete with espresso pods or regular coffee. There are snack mixes and drinks inside the fridge. All of these are complimentary with the urban amenities stay. The beds are plush and comfy with lots of pillows. There is always an art piece in each room. When you turn the TV on, it will have a welcome screen with your name on it! The details that complement the room make any stay feel charming. You will never want to leave!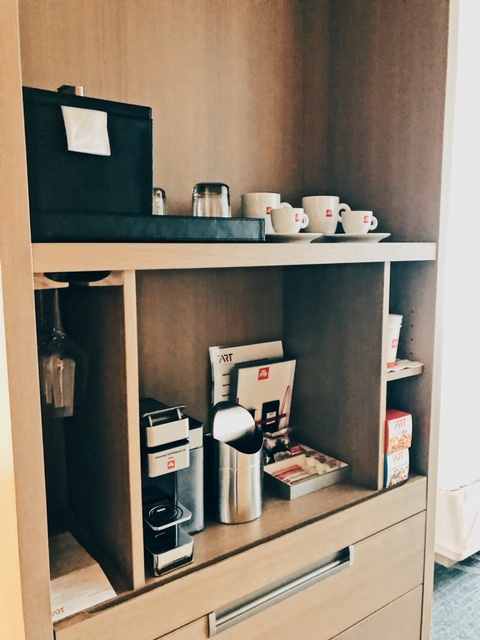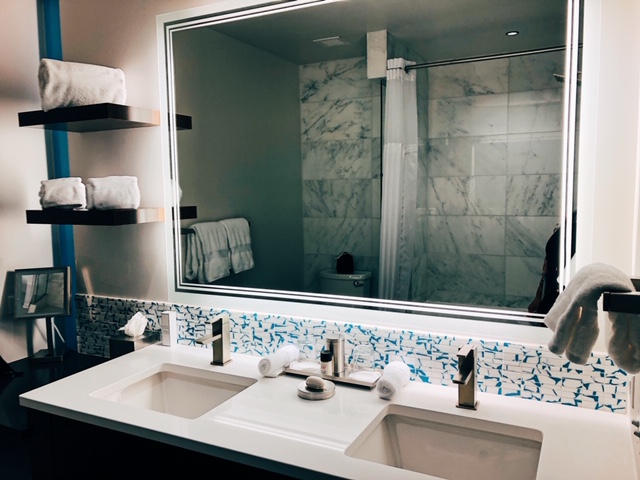 Having a group of 5 girls can be tricky. We all wanted to enjoy each other's company throughout the weekend but couldn't all fit in one room. Luckily, The Art Hotel can accommodate large parties by putting them in adjoining rooms. We had a King with a pullout next to a 2 double bed room. Because they were next door to each other, we could open the doors in between and treat it like one big hotel room. With the addition of a pullout, there was plenty of room for everyone to sleep comfortably. This would be a great option for big families or people traveling with children.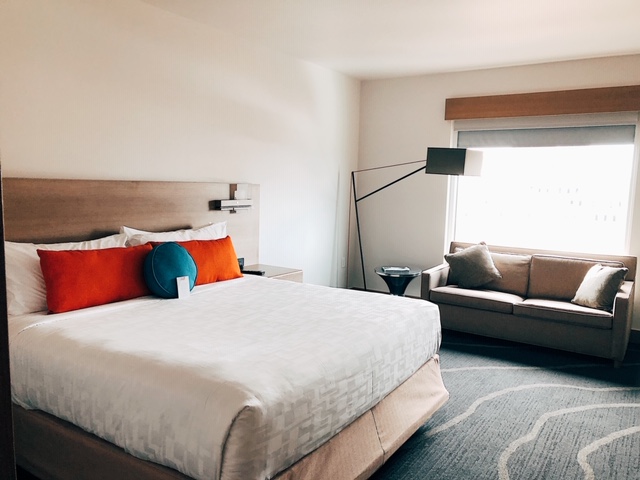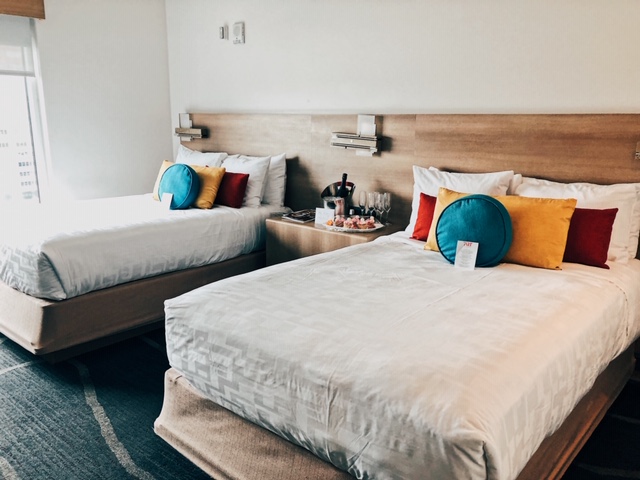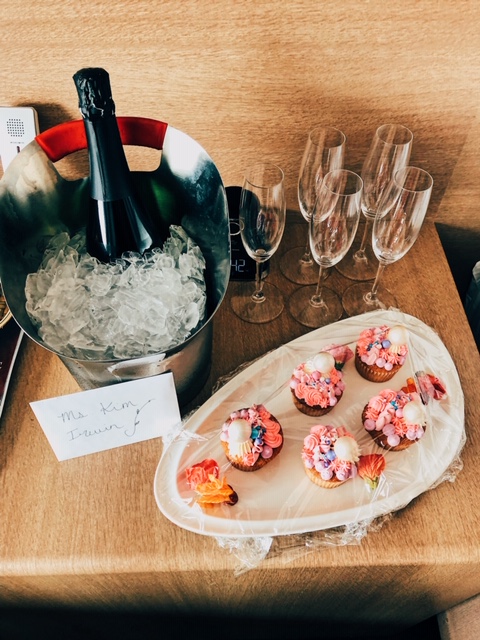 Have dinner plans outside the hotel? There is a hotel SUV that will be happy to take you to where you are going, as long as it is not being used by another guest. When you exit the hotel, you will notice a ceiling strewn with sparkling lights. These truly put a twinkle in your eye and make you feel as though you are in Vegas! You can walk right out onto South Broadway and be a mile or under to a variety of bars and restaurants.  We took advantage of the hotel car and fit five girls inside for a quick ride over to Ophelia's for a bite to eat and fun start to the night.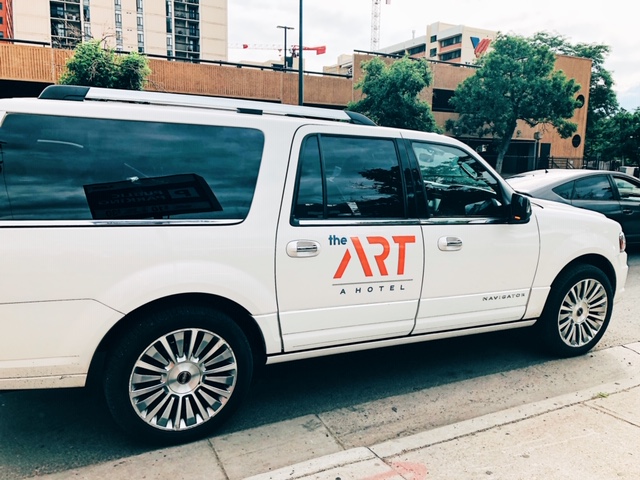 The ART Hotel is an invigorating place to stay. It gives energy that other hotels don't possess with its colors and attractive sculptures. It is perfect for a girl's weekend or to spend time with your honey. We had an amazing time and will look to The Art Hotel for future reservations when we need a night on the town.