Nestled in the heart of Boulder, right off Pearl St. mall, there is a little cubby that is home to one of the most elegant and intriguing restaurants I have been to, Steakhouse No. 316. It's dimly lit rooms and borderline gothic, yet glamorous, decor leaves you at ease and ready for relaxation.
To aid in that relaxation is a lengthy booze menu. From a well thought out wine list to a creative cocktail story told both on paper and by eyeing other patrons selections. The spirits do not disappoint. I took the honor of grazing the list and trying out a few splendid drinks.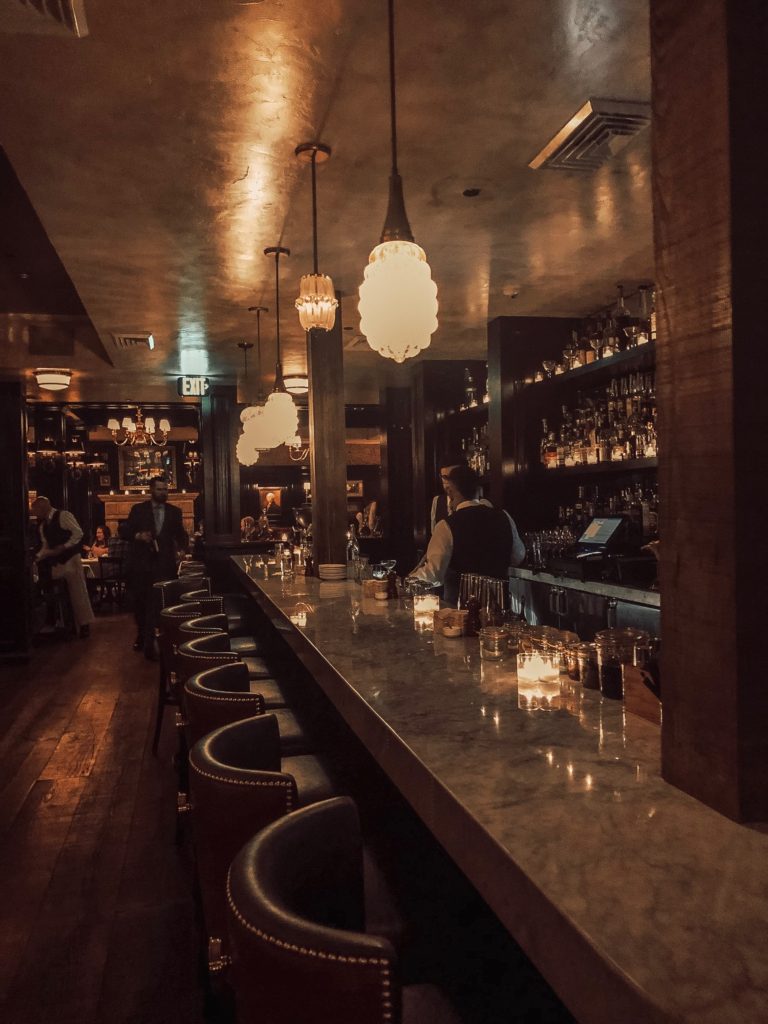 To start I ordered the Devil's Advocate. This is a popular cocktail here and comes with a bit of entertainment. It is made from Yuu Baal Mezcal Joven, peach nectar, lime, habanero and cinnamon honey. They bring it to the table and light the lime on fire to caramelize the sugar it is dipped in, then drop it in with the rest of the ingredients and give a quick stir. Ultimately, creating the perfect cocktail that is pleasing to the palette and is pretty to look at. The tables around you will watch with envy as your drink is prepared and pretty soon someone esle will order one for themselves.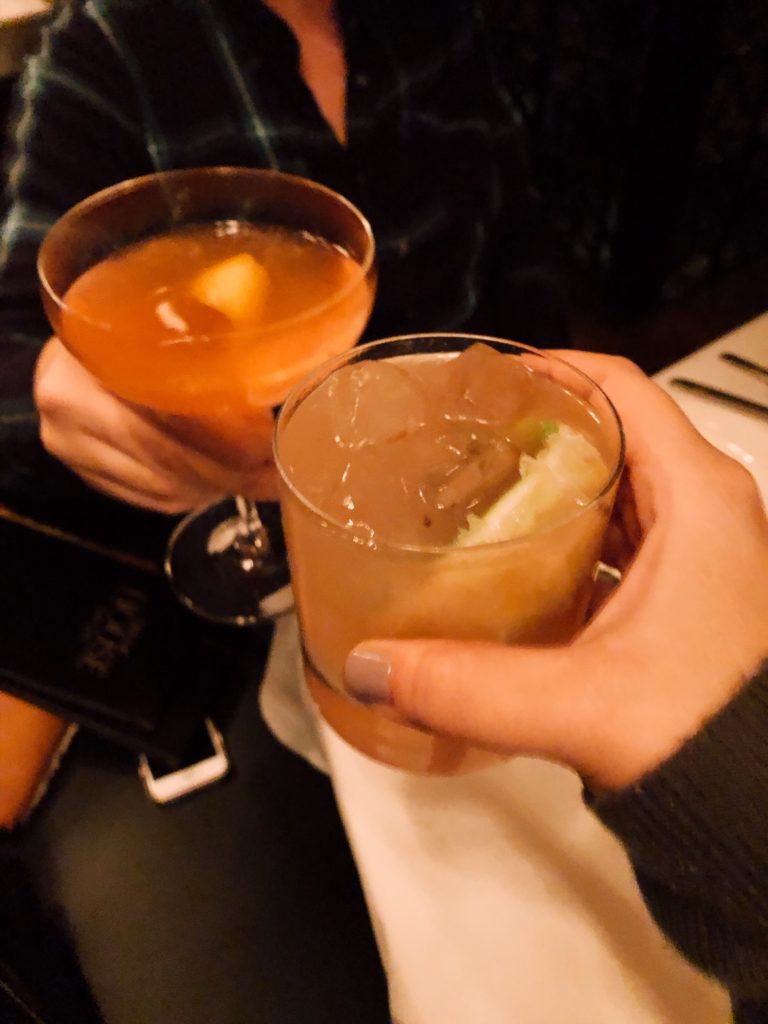 The happy hour menu is perfect for some pre-dinner snacks or you can combine a few for a meal in itself. This is a great place to come after work during the week for a quick bite and some really great cocktails. The HH the options aren't lacking. We opted for some fresh oysters, salmon tartare crostini and some fire grilled beef skewers. Each were a delicious little snack. The cold oysters were fresh and hit the spot. The salmon tartare crostini were full of flavor, using super fresh fish and plenty of dill. Delish! The beef skewers were super tender and the perfect balance of sweet and savory then sprinkled with chives, to top it off in the freshest and most delicious way possible. Though they aren't on the HH menu, we had to order some oysters, Rockefeller. These are oysters dressed in a combination of butter, breadcrumbs, parsley and other savory herbs. They are then baked or broiled. One of my favorite seafood eats!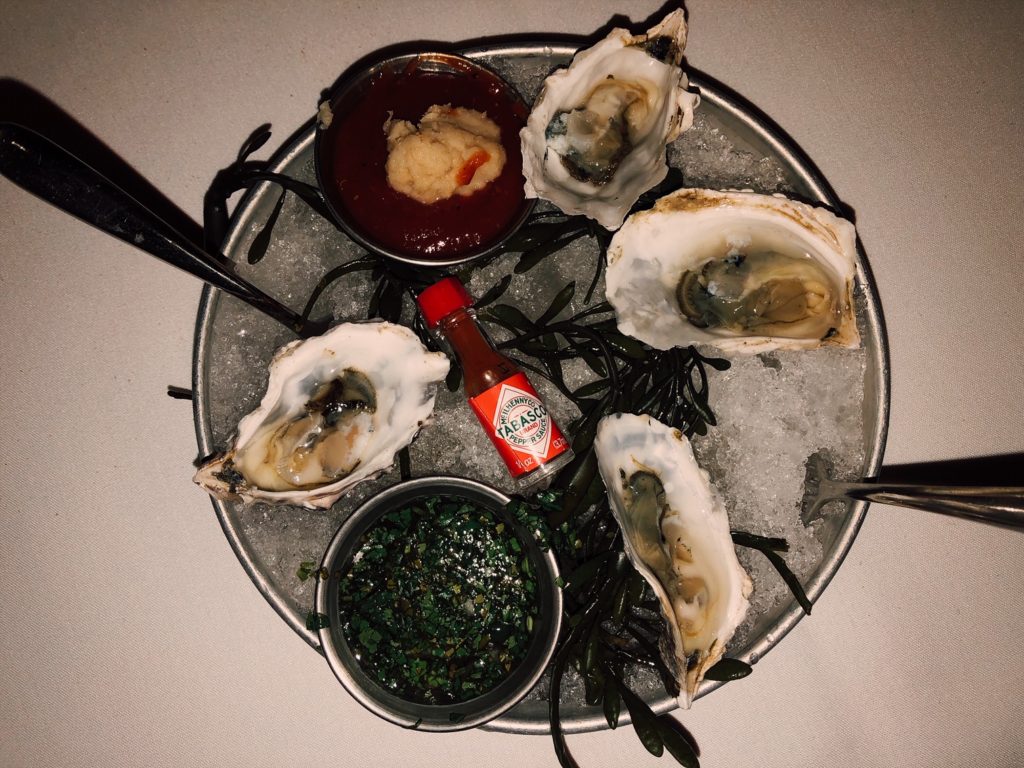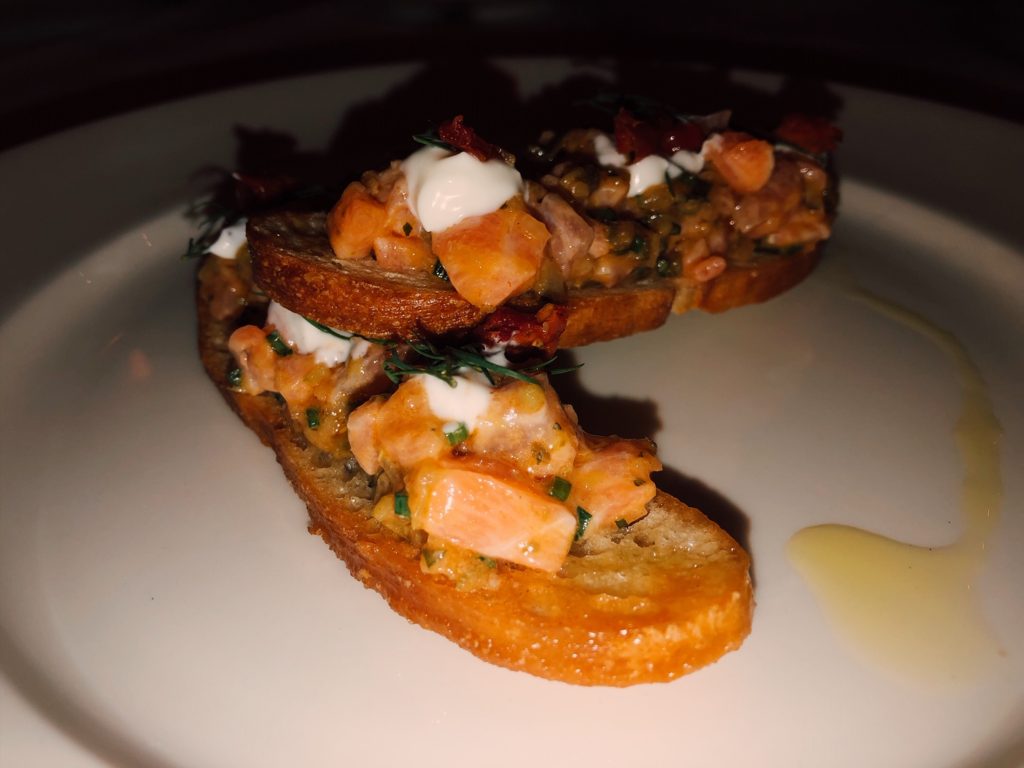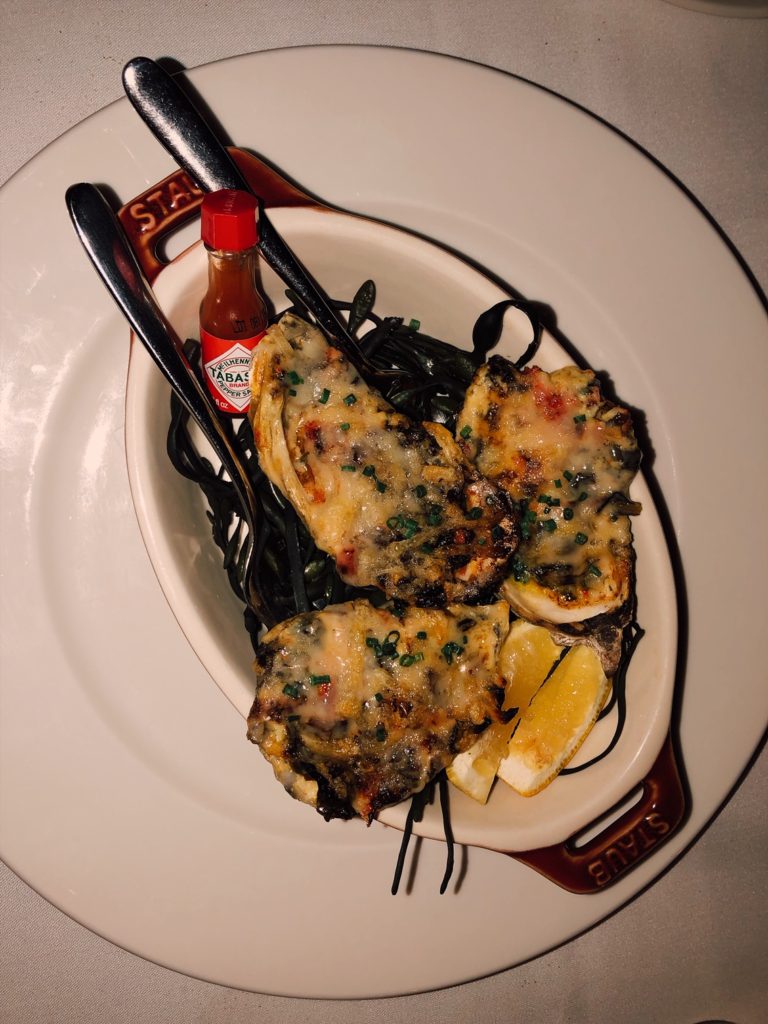 When you aren't coming in for HH, you can indulge in a full-blown dinner. This is the perfect spot for date night or to celebrate a momentous occasion. Come in when you can really treat yourself. We started treating ourselves with the Caesar salad. This is a must when you are dining at Steakhouse 316. Not only are all the ingredients fresh and house-made, but the dressing is put together tableside from scratch, so you can watch all of the deliciousness being made. Because this salad was being made in the traditional fashion and we wanted to eat it in the traditional way, we decided to get our salads WITH the white anchovy garnish. My dining partner and I had never tasted an anchovy, but they ended up being quite delicious. This salad was definitely a highlight of the meal and is a MUST for anyone wanting the full Steakhouse 316 experience.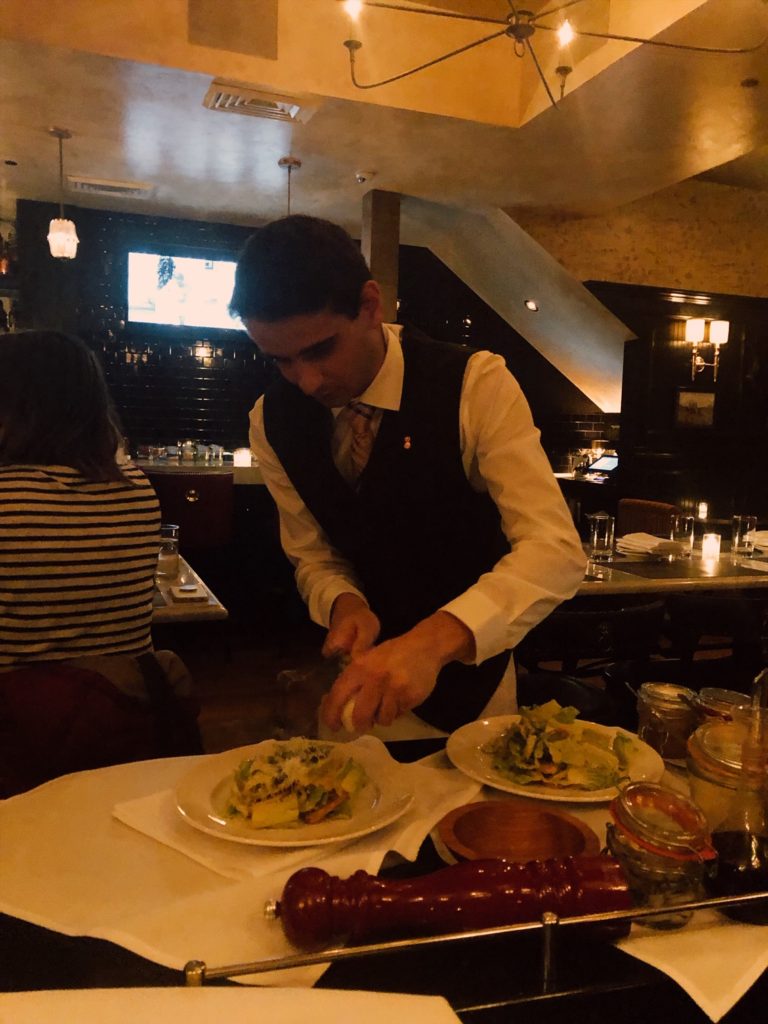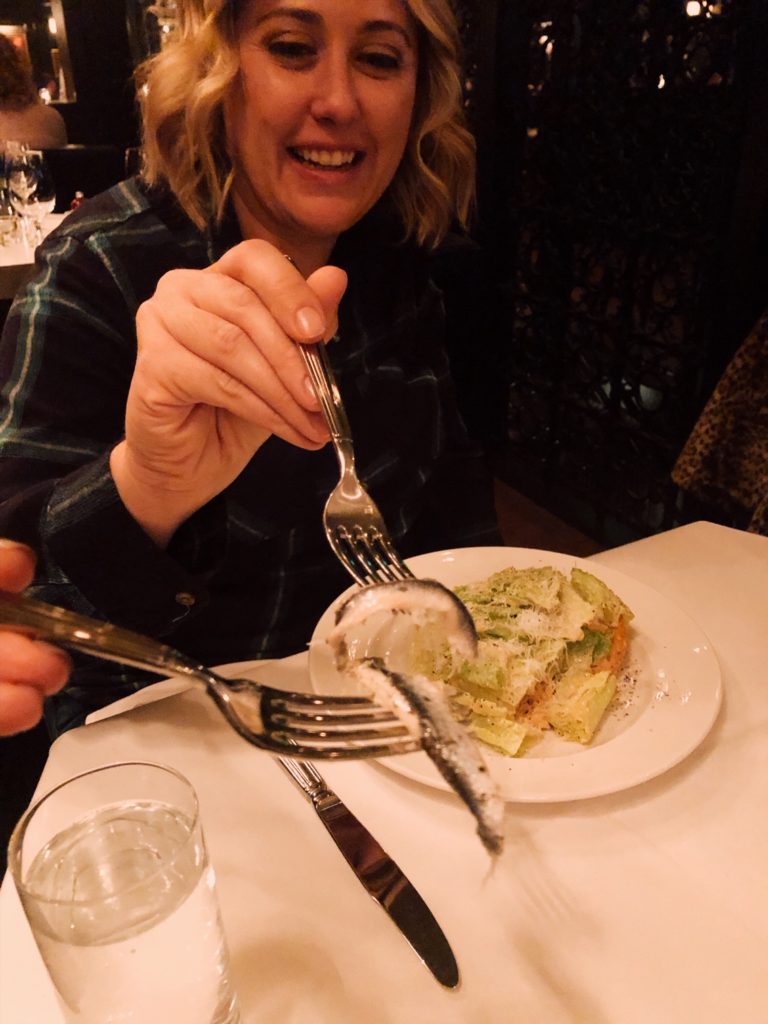 Next came our entrees and side dishes. Upon ordering, we were told our lives would be in danger if we did not order the truffle mac and cheese, so to avoid an ill-fated evening we complied. The oversized shells held so much cheesy goodness in each bite. The pasta was cooked with a blend of cheeses and truffle. What really hit the bar high was when the creamy concoction was topped with freshly shaved truffle. The sound of a truffle being shaved tableside is drool worthy in itself.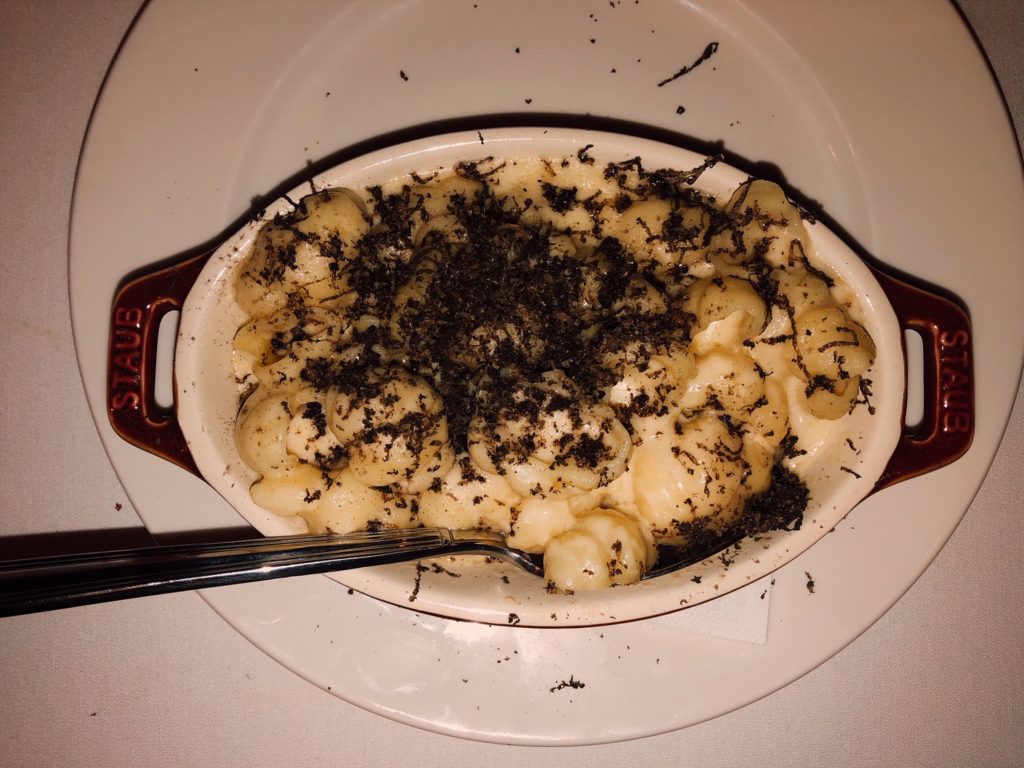 Brussels sprouts were a must, just because we are pretty basic and it is the little things in life (done well) that really make a meal. As anticipated, these came out nice and crispy and seasoned perfectly. They were accompanied by an array of different sauces. These could be used to sauce any of the dishes but most likely were to go with the steak. If you are a sauce queen like me, unrequested sauces are a gift. I like to dip, dunk and douse. Along with the sauces came a glorious mound of truffle butter. If you haven't already figured out how much I love truffle, well, I mean I REALLY love it. This went on everything and was the best spread all up on that steak.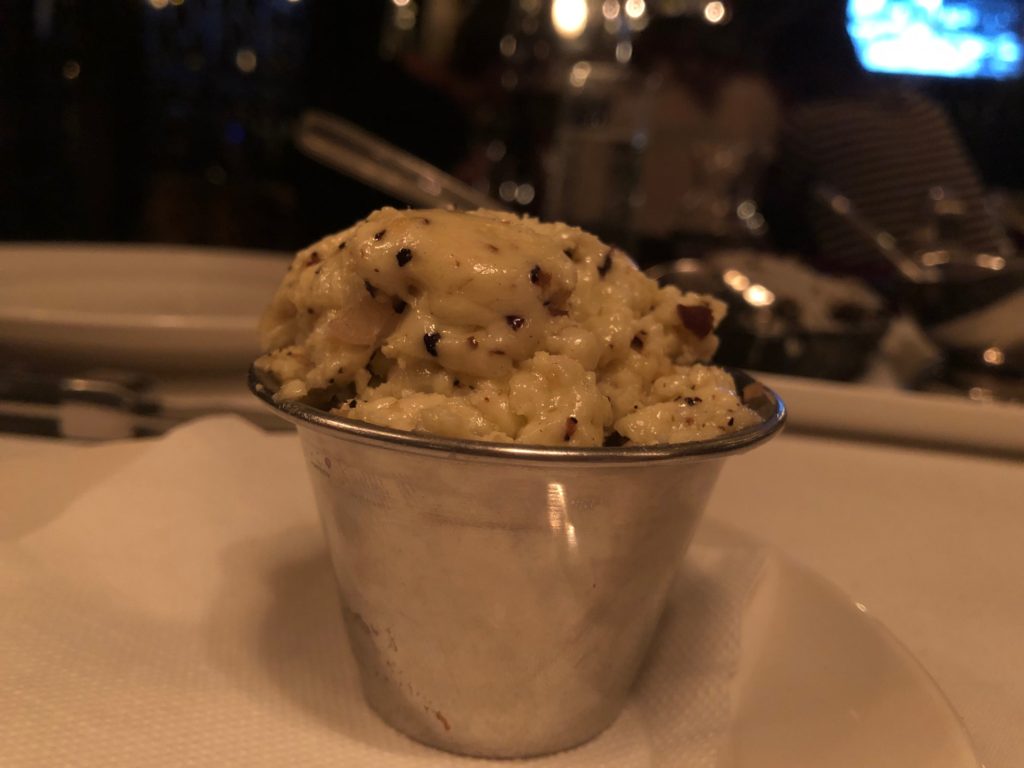 Oh yes! The Steak! That is why we are all here folks! Though there were many enticing cuts of meat to choose from, my friend and I went with the Tomahawk Ribeye for Two. Not only was this steak incredible looking (it really wowed us), but it equally delicious. You can tell this red meat got the rubdown, like buttered up and seasoned aggressively with salt and pepper. The steak was first presented to us whole so we could get our oohs and ahhs (plus pictures) and then they took it in the back and sliced it up so we could manage stuffing it into our mouths a little easier. The meat was cooked perfectly and was so tender. It melted in your mouth. It took a lot of will power not to just pick up the bone and eat it like a caveman, alas, I resisted and stayed dainty.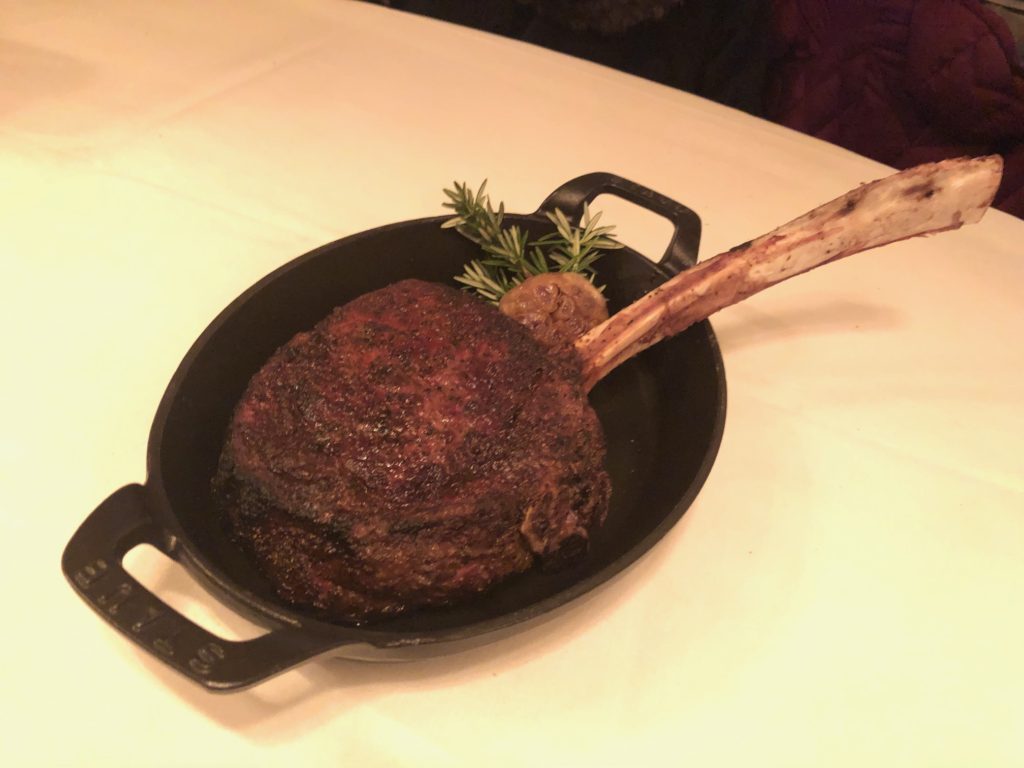 To make sure out arteries were fully clogged and our bodies were close to a diabetic coma, we ended our meal with dessert. Picking dessert here was like picking your fantasy football team. It took a lot of thought, consideration and a final game plan. It got intense for a second as we weighed the pros and… pros (<- there were not cons) of each option. Ultimately, we decided on the bread pudding. Not only was this hunk of moist caramel laiden decadence hot out of the oven, but it was covered in nuts and ice cream and came with a mini carafe of caramel sauce. I could have laid down and died right there, but I pushed forward and made it through, reaching what I think was pure enlightenment.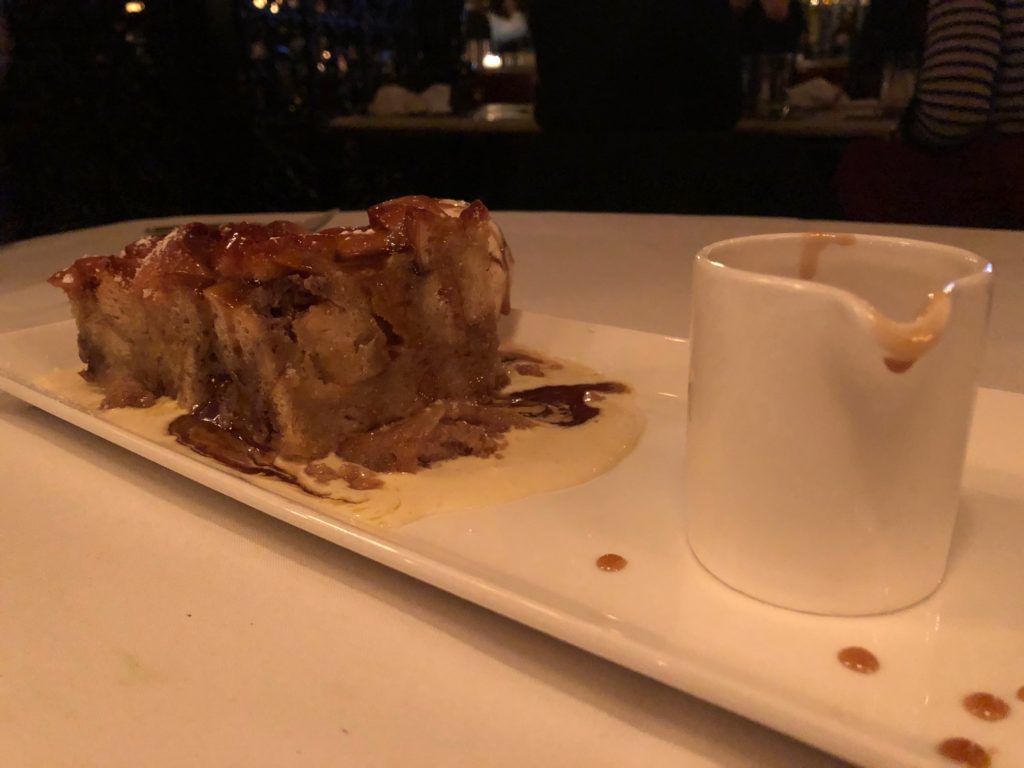 My experience at Steakhouse No. 316 was memorable to say the least. The servers are attentive and caring. The food came out in a timely manner and the server planned around our preferences to better strategize which dish we received when. She was quick to give suggestions and really listened to what we wanted and catered to that. I felt like a valued guest while dining here. I cannot wait to come back for another visit and try out more menu items. If you are looking to treat yourself, Steakhouse 316 won't disappoint.