Halloween is just around the corner and it is by far one of the most entertaining holidays of the year. You have one chance each year to dress up as someone else… or more sinister… someTHING else! (Witch cackles in background). Whether you are dressing up or not, the most thrilling part of the season is to visit all of the costume stores and share some good laughs with your friends. Many of the stores below will give you a day of silliness and some may even spook you a little. More so, this list came straight from a Denver native's Halloween loving heart. Sooooo… take yourself off the beaten path away from the temporary strip mall pop-ups, put down the costume in a bag, and get creative and have some fun shopping and driving around this beautiful state of ours. (*Note* you will not be judged for being "basic" and picking up a pumpkin spice latte before you hit a full day of costume shopping – it will put you in the Halloween spirit)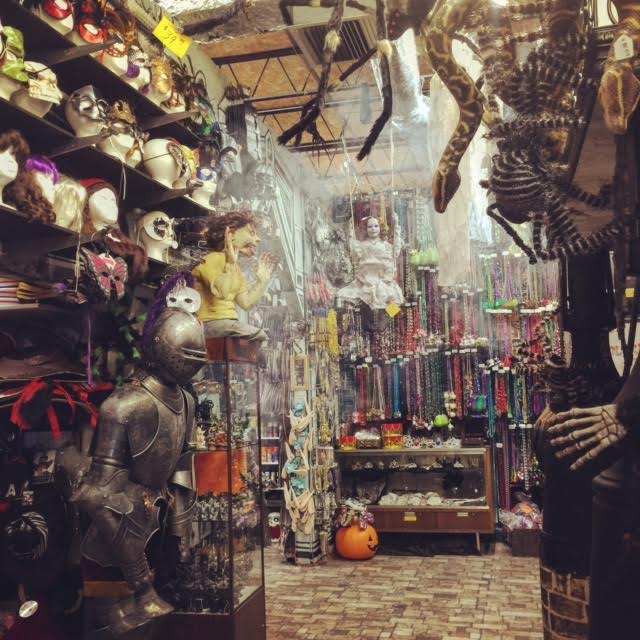 Reinke Brothers – 5663 S Prince St, Littleton, CO 80120
This little establishment has had it's ups and downs with in Denver, but HOORAY it has reopened and is ready for a spooktacular Halloween! Having been a Halloween staple in Downtown Littleton for over a decade, Reinke Brothers gives the best of both worlds. Not only can you find obsolete and realistic costume accessories here, but they are also home to a haunted house right in the store. There is nothing more traditional for those of us born and bred in Colorado, than walking through for a scared before picking out what to wear!
The Wizard's Chest – 451 Broadway, Denver, CO 80203
This place is the next best thing to visiting Florida's Harry Potter theme park. It is a truly magical experience for any age and you can find unique and interesting costumes YEAR ROUND!
Regal Vintage  – 1866 S Broadway, Denver, CO 80210
If you like to be original and authentic when it comes to costumes, Regal Vintage is the one for you! They carry all things circa 1960-1990 and maybe more. If you like to dress like a seventies hipster the rest of the year, they offer vintage clothing throughout. Anyone is bound to find some fun flare when you stop here.
Buffalo Exchange – 51 Broadway, Denver, CO 80203
Much like Regal Vintage and located a little further North on Broadway, Buffalo Exchange has a wide variety of vintage costumes as well as new but used apparel. You will always be surprised what you will find here, but if you are still clueless on what to dress up as, you are bound to leave with a million ideas and hopefully a costume!
Studio Lites – 333 Broadway, Denver, CO 80203
Studio Lites is rumored to be the best when it comes to wigs. It made Westward's list for "BEST SHOPPING FOR CROSS-DRESSERS" in 2011. Having a wide selection of mullets, mohawks, blondes, and brunettes. This place has what you need for any disguise.
Disguises – 9797 W Colfax Ave KK, Lakewood, CO 80215
Disguises is another costume store that is opened year round. They feature costumes for every age and offer anything from accessories and masks, to the full blown costume. Essentially it is a Halloween themed party supply ready for any of your last minute Halloween needs.
Flossy McGrews & Son – 2645 S Santa Fe Dr, Denver, CO 80223
Last but definitely NOT LEAST is Flossy McGrews, another long time Denver staple. Flossy's has catered to theater performers for years, offering costume rentals all year long as well as costumes for purchase. Their inventory consists of the most realistic costumes, so if you are looking to win a costume contest, this may be your place. Flossy's did JUST reopen at the beginning of this month but had to close their doors due to a fire code issue. Hopefully they will be back open by next week in time for folks to grab more ghoulish garb before the holiday weekend! Read more about it here and stay tuned for when they reopen! Also, check out the long time legend and owner of the shop… isn't she the cutest?!
Realistically, if you just cruise up and down South Broadway for any of the above you are bound to find a costume! In between many of these stops, the street is also riddled with amazing thrift stores so you have plenty of options. Whatever you do, try and be creative, be kind to mother earth by doing your part to recycle and reuse, AND support our small local businesses. Happy haunting!